Are you trying to figure out if you are going to serve salmon or chicken for a sit down dinner?  That is fine, but food stations are the latest craze the allow the newlyweds to express themselves.  This creativity not only brings their personal element to the table, but guests LOVE the amazing variety and display of food that challenges the pickiest of eaters.
Your guests eyes will pop outside of their heads when they see food like sliders and fries, or for those sophisticated palates, oysters and ceviche, or shrimp and grits.  The choices are literally endless.  You are only limited by your tastes of foods and creativity.  Here are 23 food stations that you can use to help jump start your imagination to satisfy those taste buds of your guests.
Cheese and Wine:
Yes, this is a classic pair, but you can jazz up a station to go along with the couples favorite fromage and vino tandems.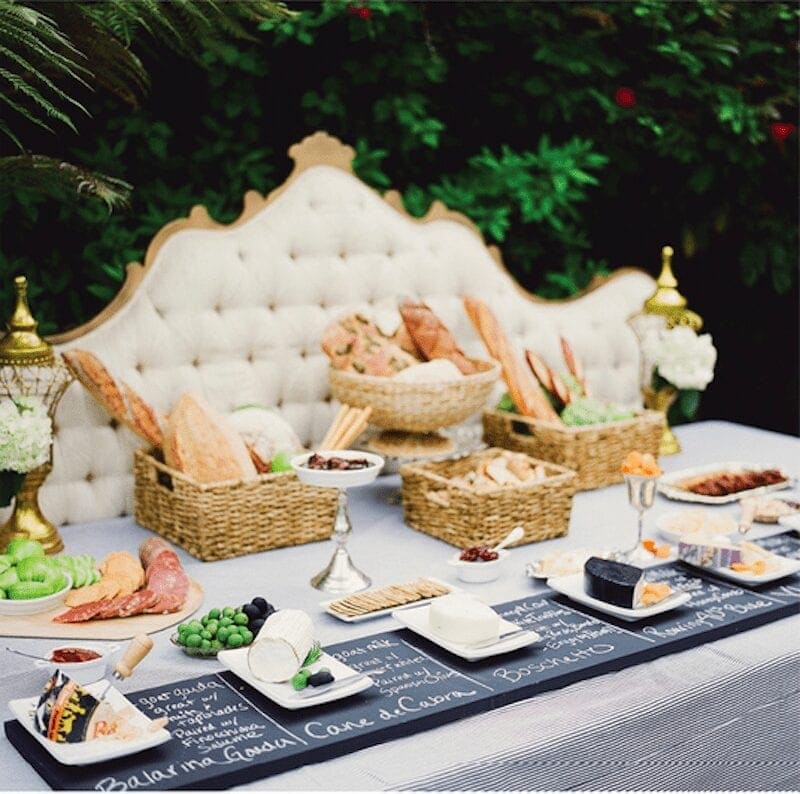 Poppin' Bottles:
What type of wedding is it without some bubbly?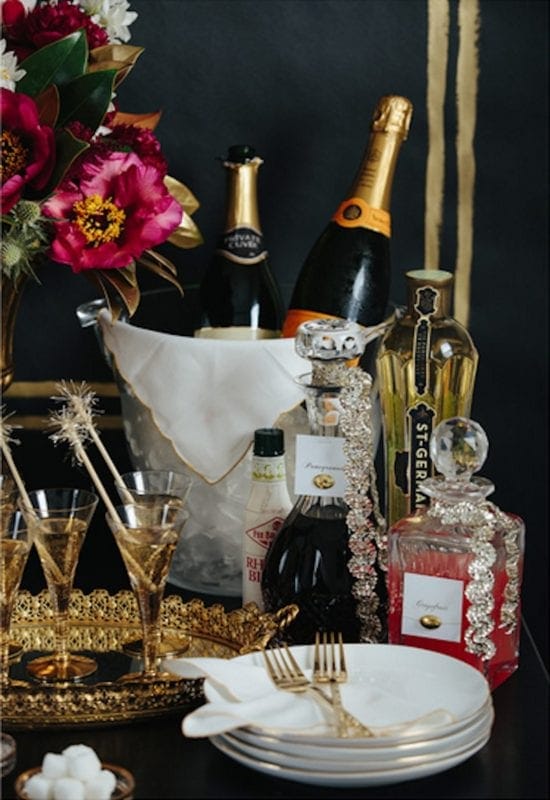 Taste of Whiskey:
This is typically a grooms thing.  At this station, you want to hire a bartender that knows their whiskey.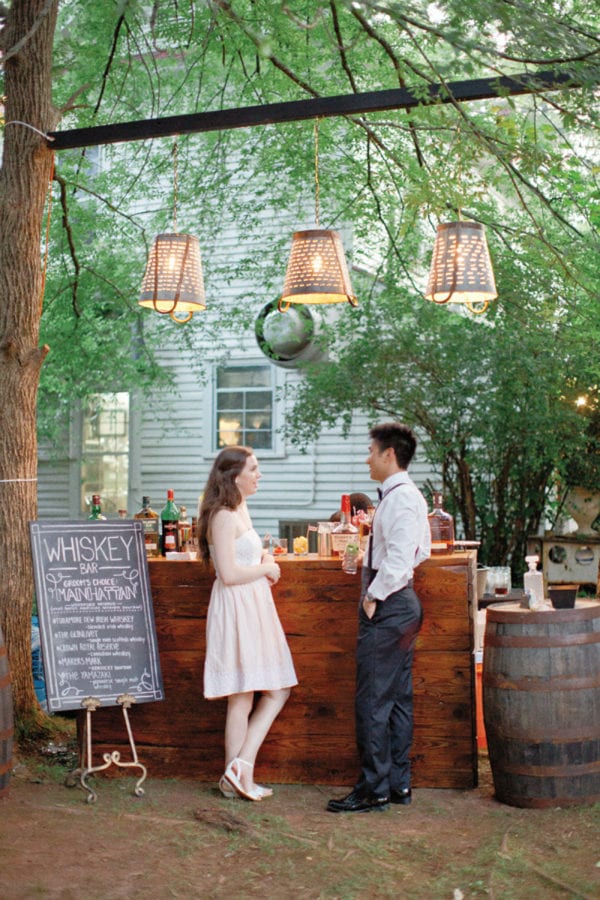 Bourbon with Short Rib Sliders:
This is a perfect match between some smoky barbeque and a swish of bourbon to follow it down the hatch.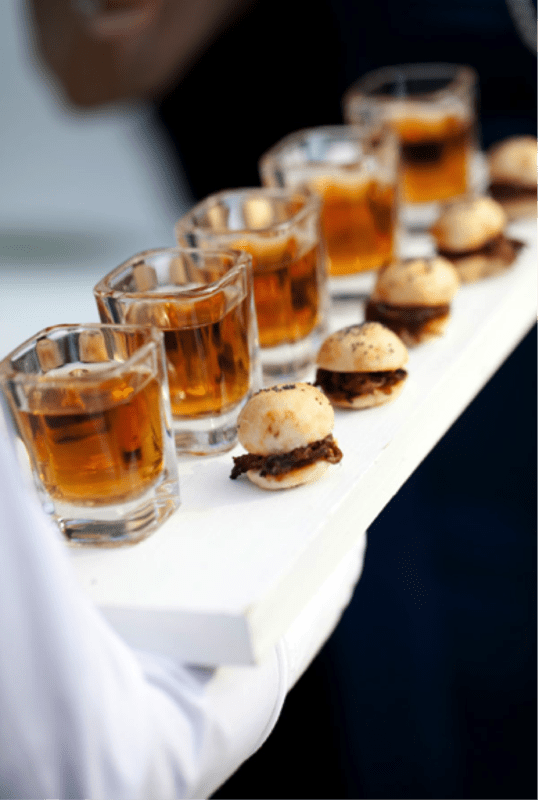 Tequila and Mini Tacos:
If you choose this food station, your other ones might be empty.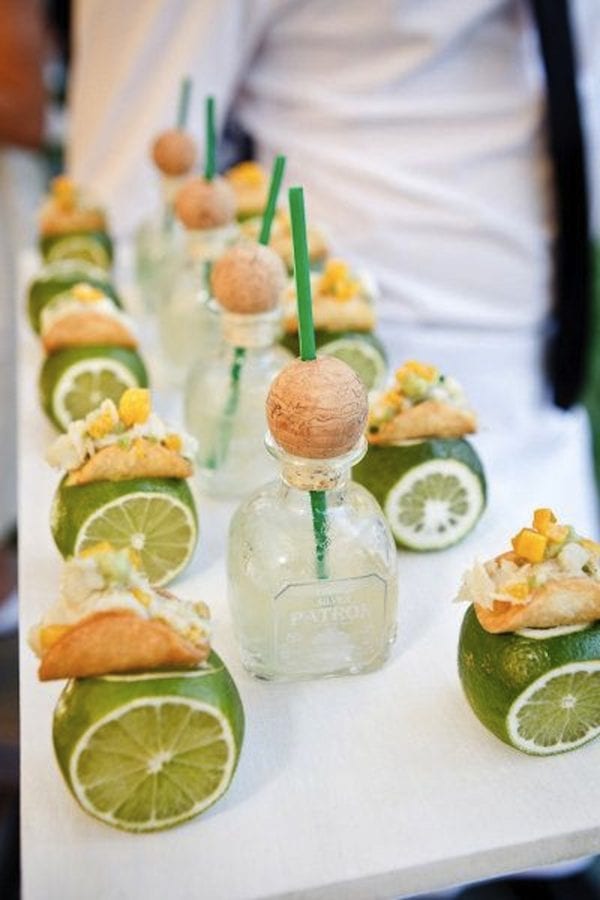 Half Shell of Oysters:
Only dare to set up an oyster bar if your guests palettes are sophisticated enough for oysters.  You can have a raw bar with granite, mignonette or some Siracha Sauce.  Yum, Yum, Yum!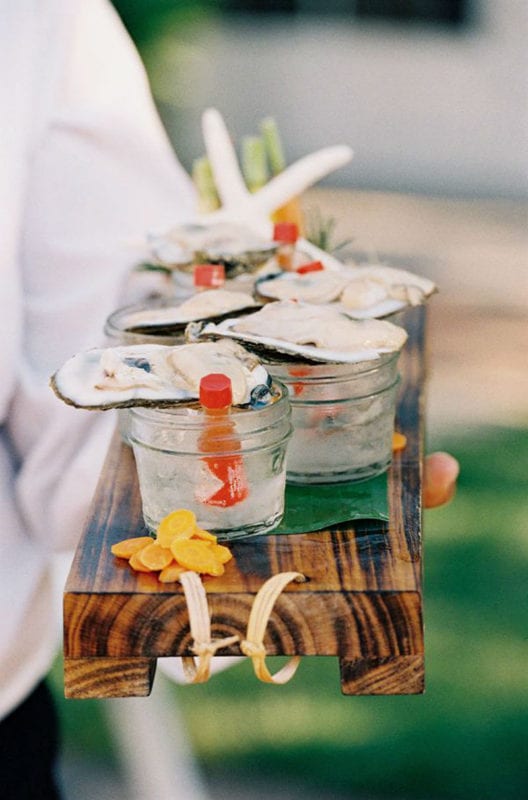 New England Style Clambake:
Make sure you have a lot of napkins if you choose to go this route.  But your guests will love you for it, I promise.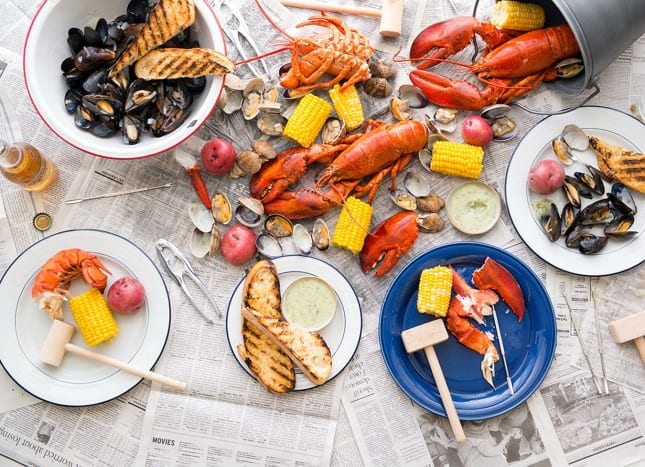 Ceviche:
If you choose ceviche, have some fixings like mango, avocado and corn chips.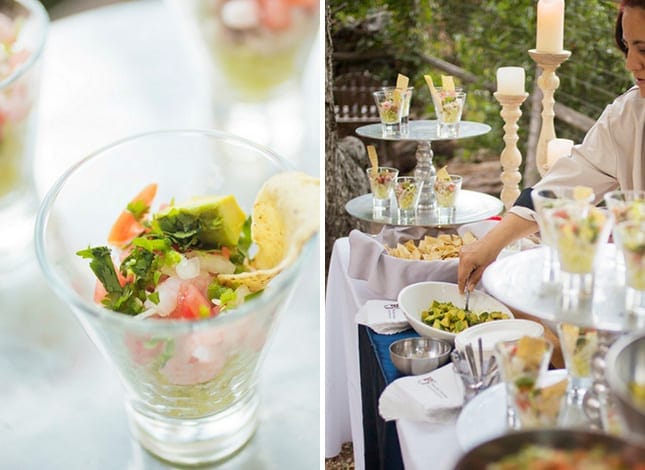 Sushi:
Not only the taste but all the colors make this food station a hit.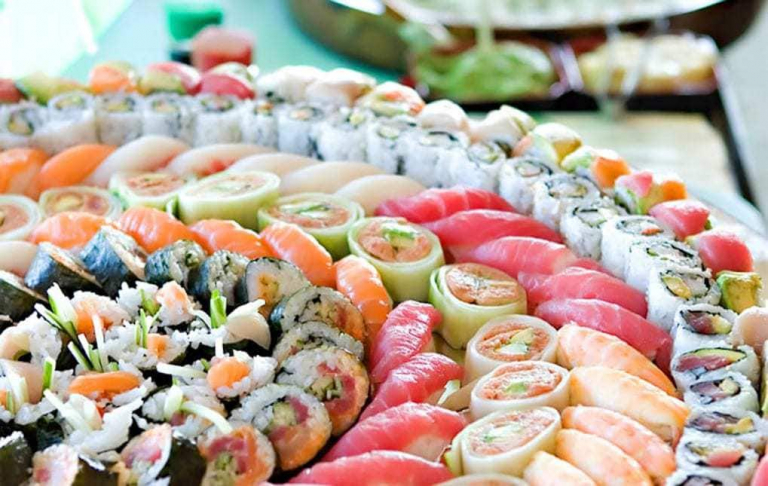 Chicken and Waffles:
If you haven't had this combination, at first it may not sound that appetizing.  But buttermilk waffles with some crispy fried chicken and maple syrup will definitely gratify the taste buds of your guests.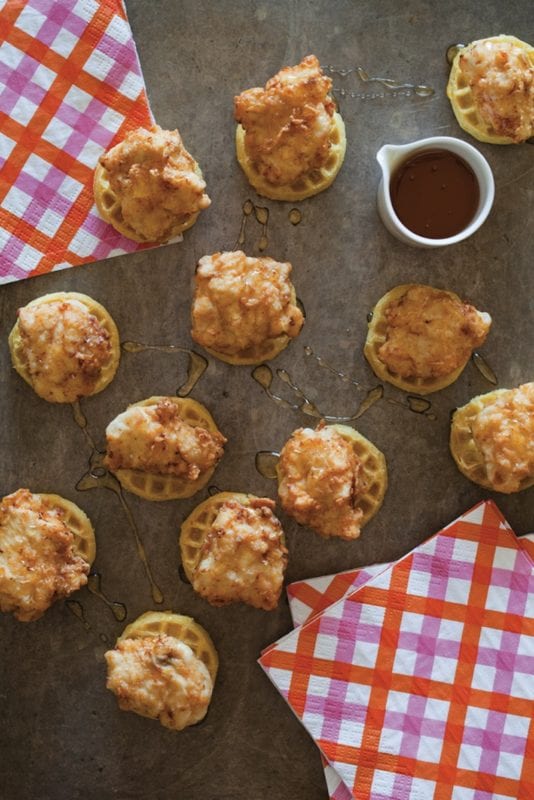 Sliders and Fries:
Where I'm from, sliders and fries is a staple.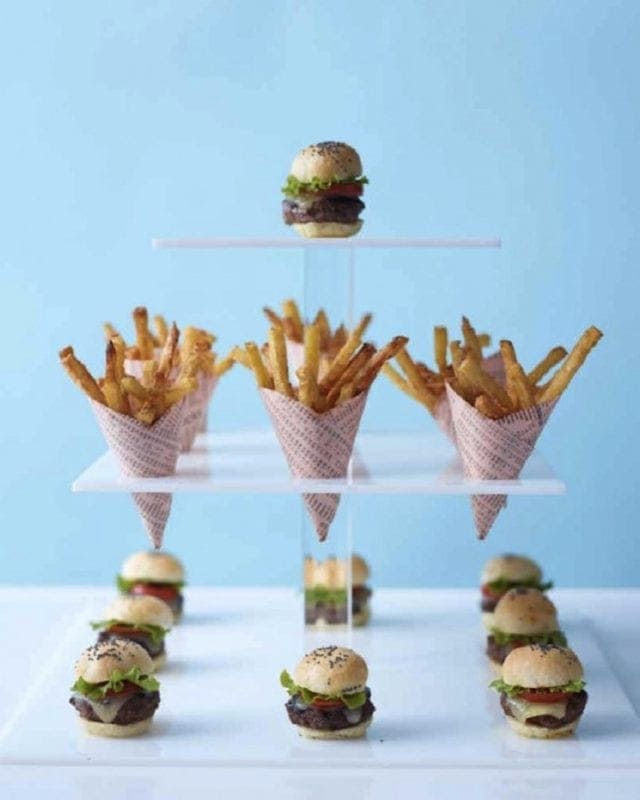 French Fry Bar:
The question is, who doesn't love French fries?  There are so many different types of fries and so may different ways to dress them.  Crinkle cut, shoestring, wedge, sweet potato or regular potato fries, are just a few ways to make them.  For toppings you can have ranch, sea salt, blue cheese, nacho cheese, chili, and ketchup.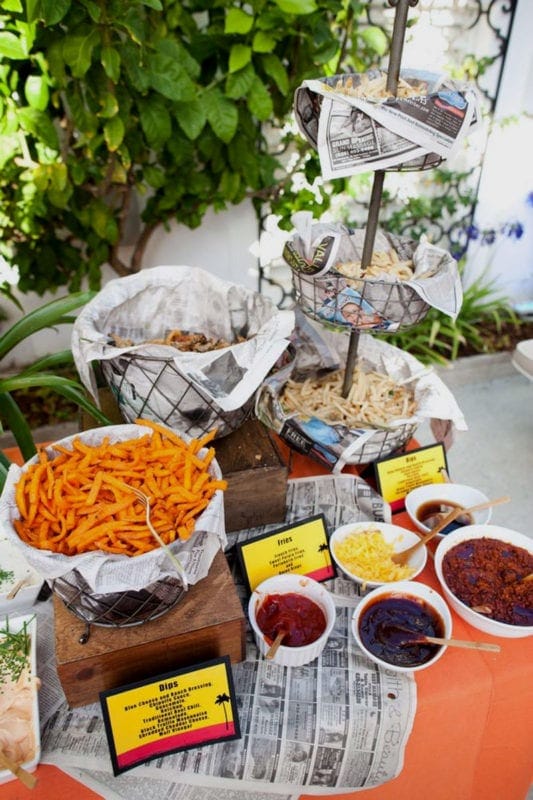 Pad Thai:
Nothing says, thanks for coming to share in our love like a slurp-worthy Thai Noodle bar.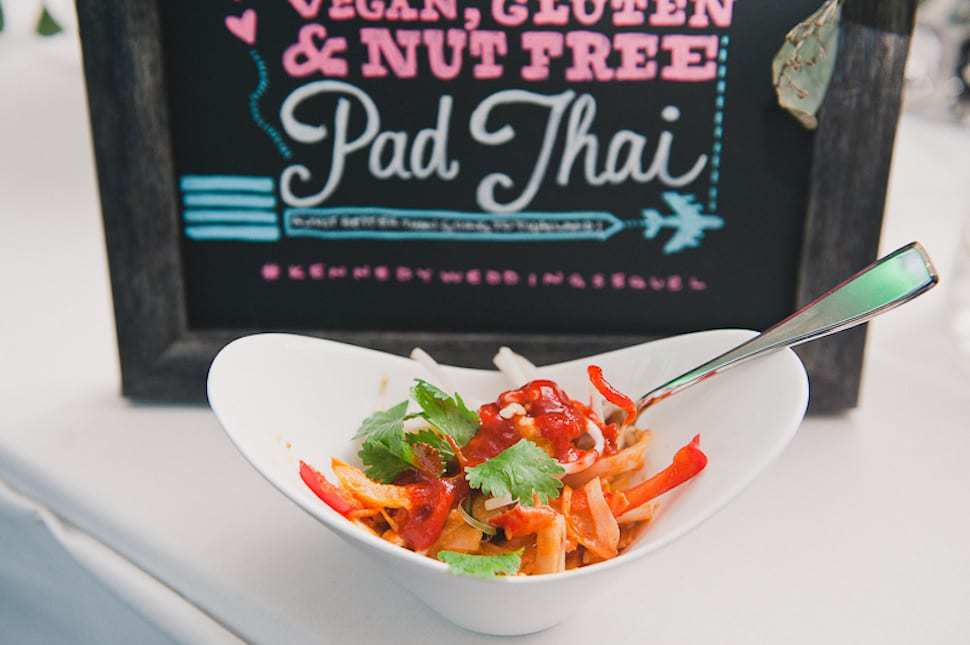 Mini Bahn Mi:
It's everyone's favorite sandwich, even if they don't know it yet.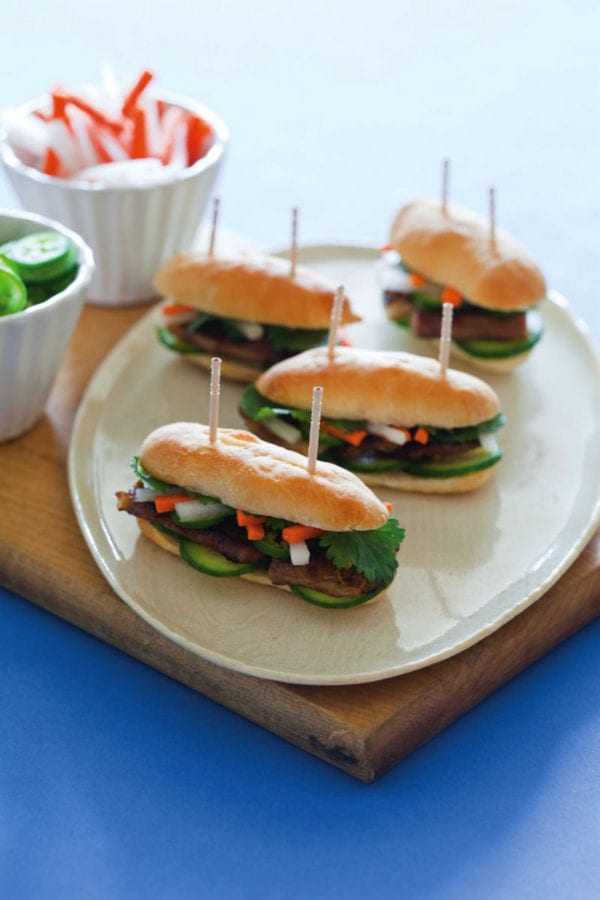 Grilled Cheese Station:
Golden brown bread with your choice of cheese in the middle, mmmmmmmm…….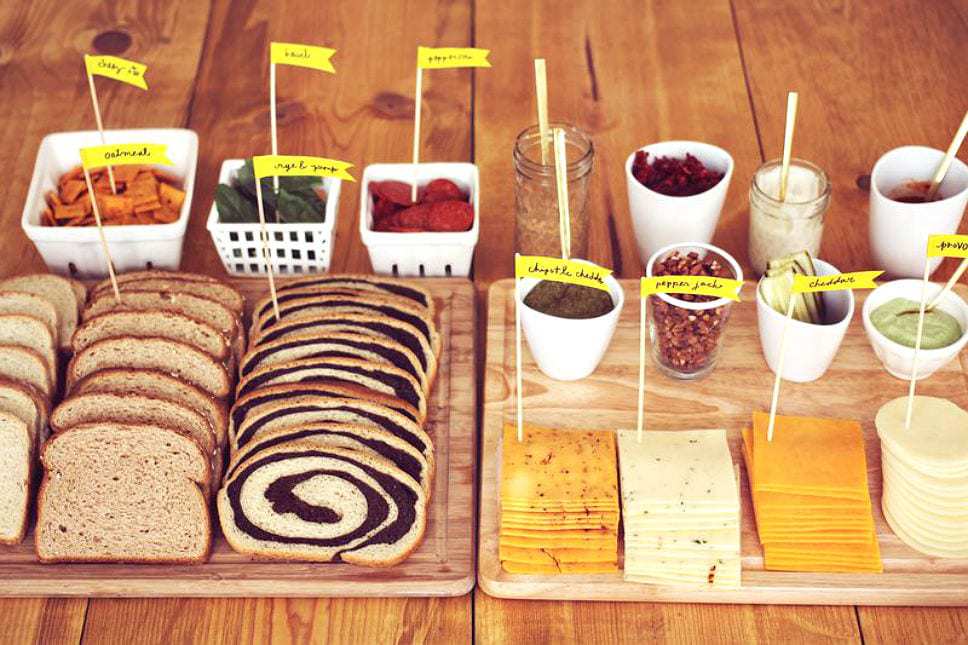 Pancakes and Waffles
Enough said, right?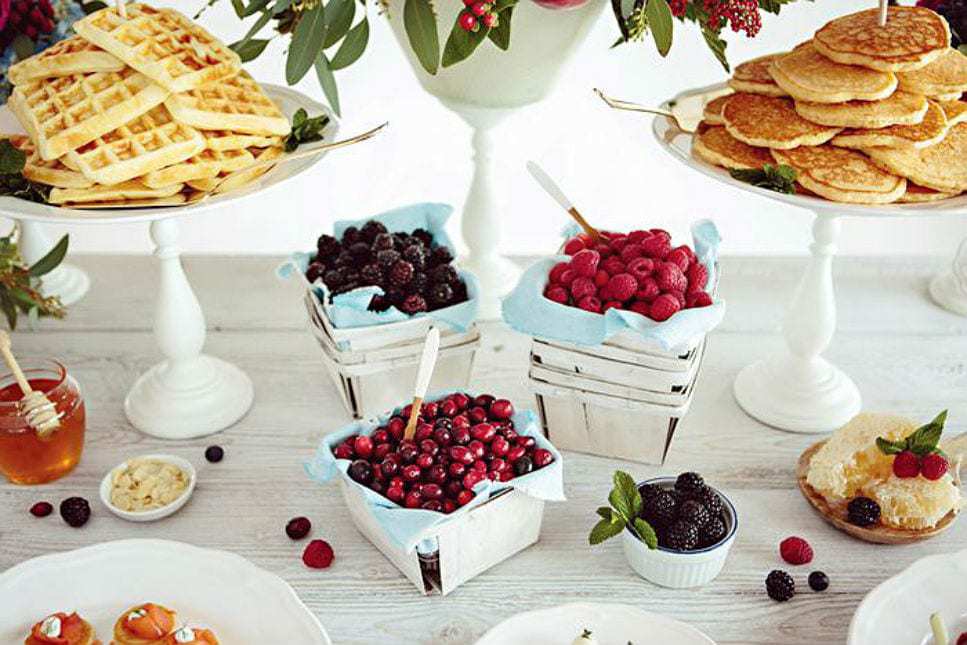 Pasta:
Pasta, Pasta, Pasta, with white sauce, or red sauce, or a cream sauce.  You choose the flavor.  Buon appetite!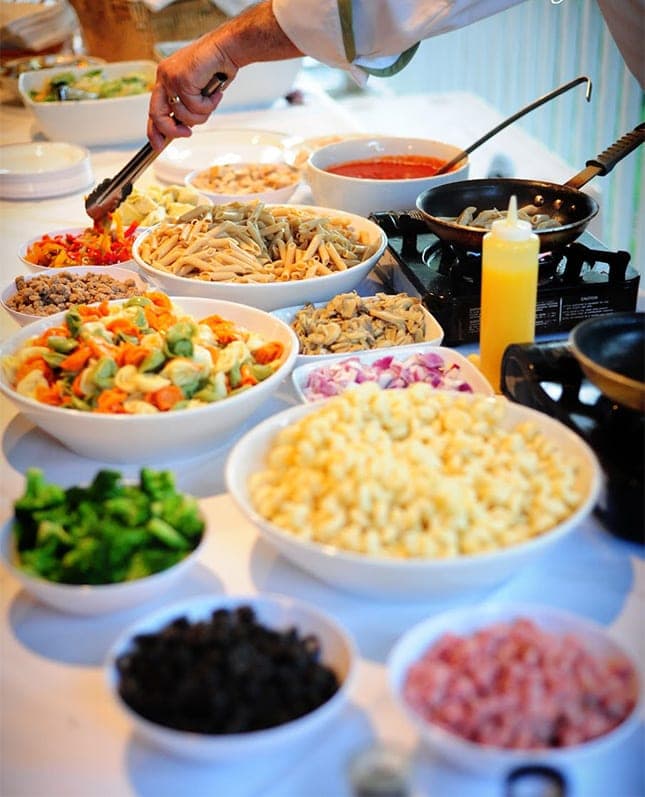 Buttermilk Biscuits:
The best biscuits in my opinion are Cheddar Bay Biscuits and Popeye's Biscuits.  You can choose whomever you like to make yours.  Have chicken tenders, turkey, ham or beef to put inside them.  Plus you can add butter, jelly, syrup, or smoother them with gravy.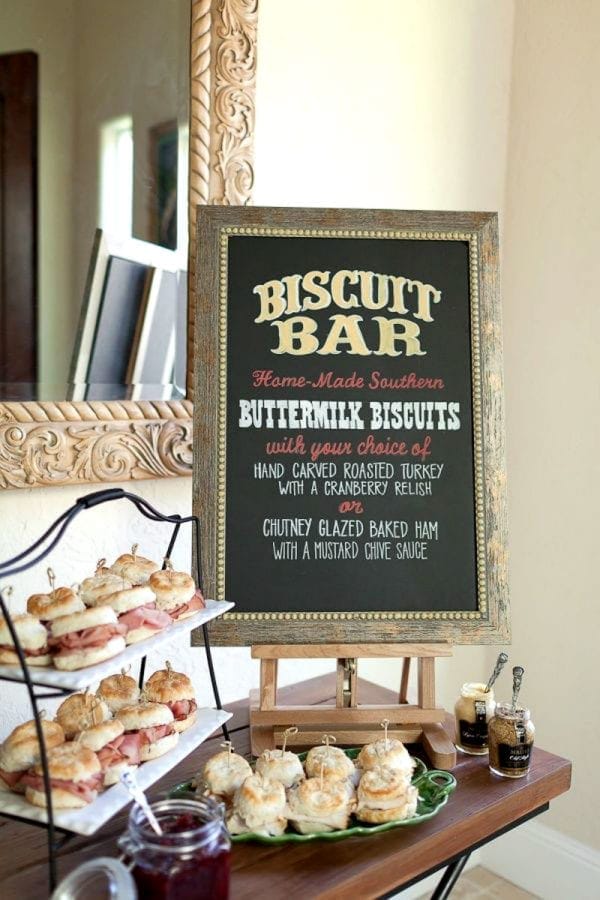 Pizza:
Having a variety of pizza is sure to make everyone's day.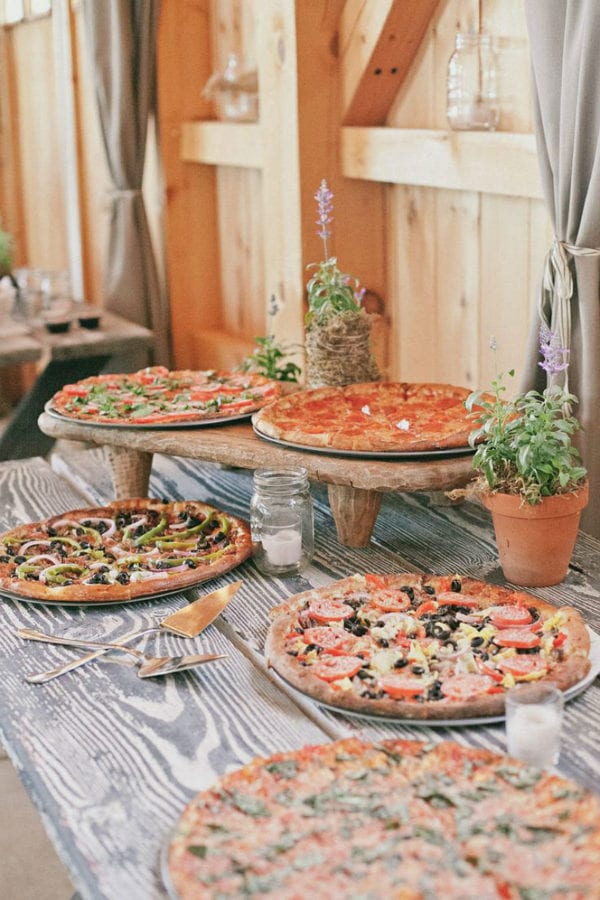 Caprese Cones:
Their is nothing like an Italian Classic that will charm your guests like a delightful blend of caprese salad, served inside of a savory, waffle cone.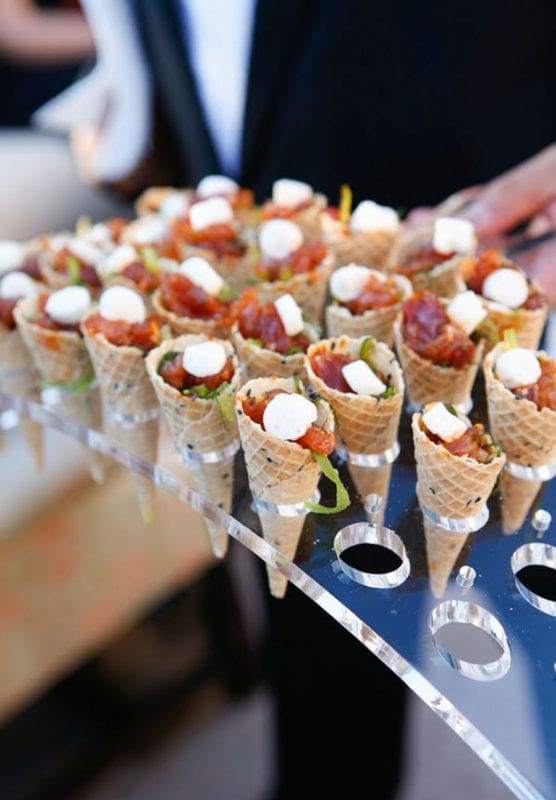 Grits and Shrimp:
Buttery, smoky and creamy grits with shrimp is sure to make your guests day.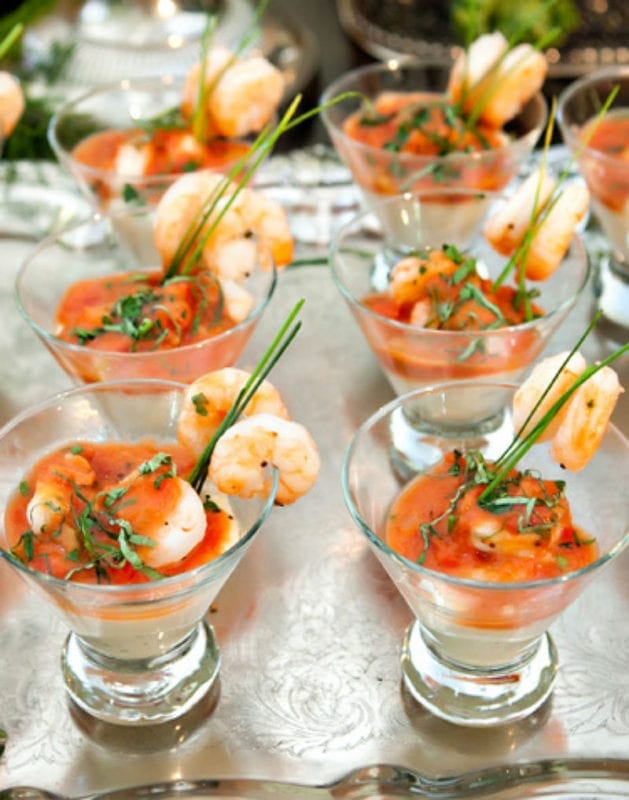 Mimosa:
Think of all the bright hues that will liven up your wedding reception from the fresh fruits and a little bubbly.  A colorful mimosa station will set the stage for the most amazing wedding toast ever.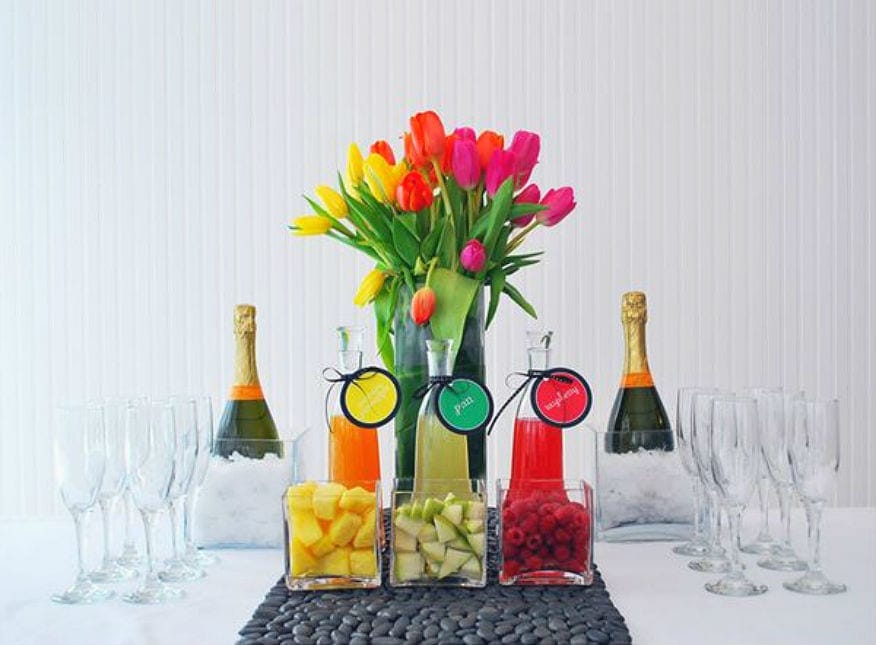 Charcuterie and Crostini:
Charcuterie, olives, dips, spreads and crusty bread… by now your mouth is watering.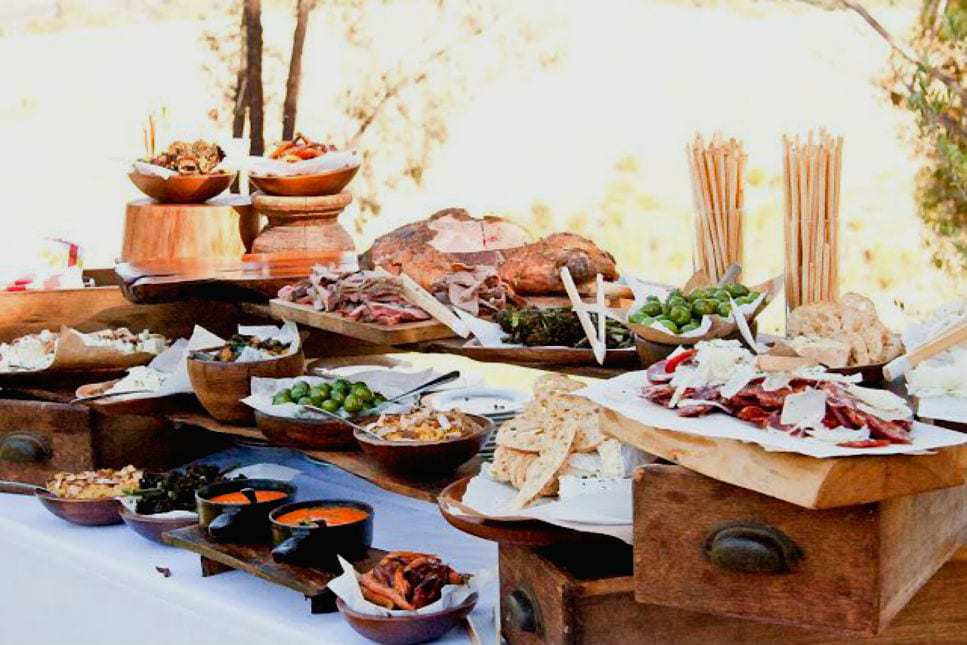 https://www.djstlouis.com/wp-content/uploads/2020/07/Party-Pros-Logo-2020-300x121.png
0
0
admin
https://www.djstlouis.com/wp-content/uploads/2020/07/Party-Pros-Logo-2020-300x121.png
admin
2016-08-25 13:04:19
2020-07-28 19:14:27
23 Mouthwatering Food Stations for Your Reception