Why can't I have an I-Pod to play music at my wedding? What is the big deal about choosing a DJ? Here are some reasons to change your mind if you were considering the I-Pod DJ.
1. The DJ will make your life so much easier on your wedding day.
The DJ is does more than just play music. They are essential in making sure everything flows and goes smoothly for your wedding reception. Picture if you will playing your iPod to create a mood just right for dinner, then you just have to go back to switch to the cake cutting, and then again for the first dance and so on and so forth. That would be absolutely insane. Why should you have to work on your on wedding day? How can you enjoy your wedding if you are constantly focused on changing the music? Why not have a professional in charge of the music? Would you trust the cater if they were an amateur? So why would you leave THE most important portion of your reception, the entertainment, to an amateur?
2. The guide for your guests at most weddings, is the DJ.
The DJ sets the mood by playing the appopriate music with timing while telling people to get there you know what on the dance floor. They are also responsible for what is actually taking place during the reception including annoucing the married couple for the first time together. They MC your reception which takes tremendous skill and expertise. You wouldn't want just anyone on the mic at your wedding would you? And would you provide your own speakers and microphone? What about lighting? These are all the things DJ's provide when you hire them.
3. The DJ's job is to take the STRESS off of you! The last thing you want to worry about on your wedding day is making sure that the music sounds good. If you hire a wedding DJ you won't have to worry about that at all. The music is pre-recorded and is very unlikely to face any hiccups along the way.
4. Professionial DJ's customize their music for you and your guests taste.
Typically a DJ should have some type of wedding planner sheet. This sheet allows you the client to take control of the important events of the night like father daughter dance, cake cutting and of course, the bridal party entrance. A DJ should also have a DO NOT PLAY list. This means that you give the DJ songs NOT to play. This way you don't have a song you hate playing at your wedding. Plus if you want some harder music played later in the reception so it doesn't offend any of your older guests, then that request should be made to your DJ.
5. Equipment, Equipment, Equipment is needed in order to run your reception as smooth as eggs. A DJ will typically have a laptop with the music on it and maybe an additional hard drive, software to play the music through, lighting, a mixer in order to fade in and out of songs, microphone, top mounted speakers, and maybe even a subwoofer to fill the room with sound. This equipment is very, very expensive and in some cases we are talking $10,000's of thousands of dollars. Not only is this equipment needed in order to have good sound, but it has to be set and and torn down. Something that most DJ companies don't charge for. Typically set up and tear down can take anywhere from 3-4 hours. Professional DJ's don't require any oversight.
6. You can always add music to your playlist. DJ's have a limitless supply of music at their fingertips, so if you happen to request a song you just knew had to be played at the wedding, don't panic. Your DJ probably has thousands of songs on their computer and or hard drive. And if they don't, most can download it for you if they have Wi-Fi access.
7. DJ's bring more than just music.
Some DJ's have karaoke available. If dancing isn't your thing, try karaoke. Most DJ companies have some sort of karaoke set up that they can provide. Just ask them. Plus when it comes to getting the party going, that is what they do for a living. DJ's specialize in "reading the crowd". This means they know what to play simply by reading the body language of the crowd. This is a skill that is acquired over time doing countless events. There is nothing worse than playing a song and everyone leaves the dance floor. Just think about that if you decide to have an iPod for your wedding reception.
8. DJ's guide your guests through the wedding. In addition to playing music and setting the mood, most DJ's tell people when to get on the dance floor, what is going on during the reception, and are also responsible for introducing the couple for the first time. All of this is important, and pretty much impossible without a DJ.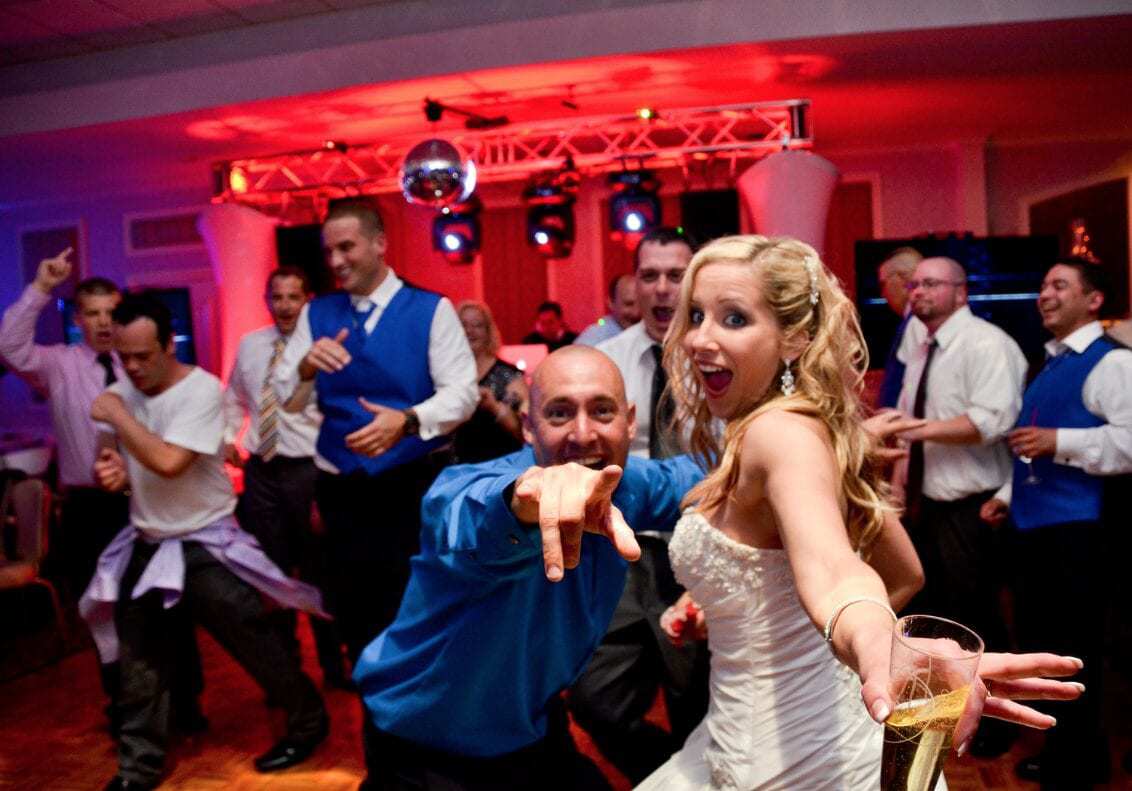 9. They amp up your guests. If you want your wedding to be a party, then a DJ is the way to go. They have the charisma and passion to make your guests have a great time. Because let's face it, after the ceremony is over all you are going to want to do is party.
https://www.djstlouis.com/wp-content/uploads/2020/07/Party-Pros-Logo-2020-300x121.png
0
0
admin
https://www.djstlouis.com/wp-content/uploads/2020/07/Party-Pros-Logo-2020-300x121.png
admin
2016-05-11 13:34:08
2016-05-11 13:34:08
9 Reasons to Hire a DJ for your Wedding