An empty dance floor at a wedding can be a bigger buzz kill than having a cash bar.  In a perfect world, you envision your guests out on the dance floor tearing it up and having a great time.  But how exactly do you get the party started and to continue all night long?  Here is some advice from some wedding insiders to unpack getting the party started.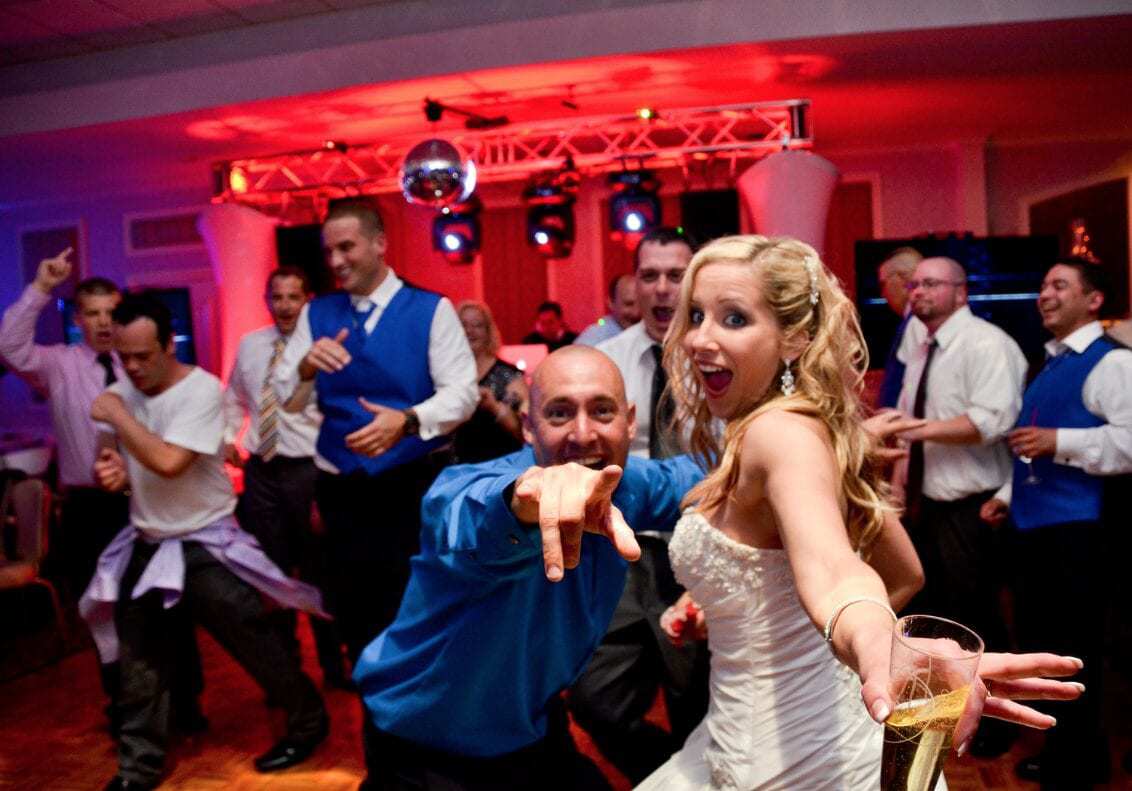 1.  Everyone follows the bride
If the bride is out on the dance floor, then your guest will be on the dance floor.  If the bride is out mingling with people, then the dance floor will most likely be empty.

2.  Offer some free flip flops for female guests
Offer some socks or flip flops for your female guests so that they can leave those uncomfortable shoes at their table.  Females love to look their best at weddings, which may require wearing some uncomfortable shoes.  Offering flip flops removes the excuse of my feet hurt.

3.  Timing, Timing, Timing is so CRITICAL
Please don't make the mistake of not taken care of all your "formals" after dinner, if not before dinner.  Cake cutting during the middle of a packed dance floor is sure to kill the energy and may even get some people to leave.
4.  Be engaging with your Audience
If dancing isn't something your people do, organize some games or competitions.  You may even want to get your DJ to do some Karaoke.  These are just different ideas you can use to create a different atmosphere.
5.  Is a bar close to the dance floor?
Let's be frank, cocktails is sure fire way to get people to come out of their shell.  Keeping their "courage" up with liquid courage is only going to produce some silly yet memorable moments at your wedding.

6.  Mastery of Music
Playing a wide variety of music over a wide period of time is sure to be successful.  People of all ages attend weddings and they all listen to different types of music.  Playing the hits from different time periods is another way to make sure your guest are having fun dancing.

7.  Begin the Night with High Energy
The hard part is getting people out of their seats and on to the dance floor.  One way is to have a Soul Train line or some type of line dance.  These things are sure to get people out to the dance floor.  Once they are out there, the DJ can take care of the rest, if they are a true professional.
8.  The perfect size for the dance floor
The fear that most couples share is that the dance floor will be too small.  However, if the dance floor is TOO BIG, then it gives the appearance that it can be empty.  Make sure the floor plan is conducive to dancing by having the optimum dance floor possible.


9.  Hire a Professional DJ, not an amateur
Understand that your DJ is a professional.  They are trained in the art of knowing how to "read the crowd".  Taking some request from guest is cool, but you don't want to turn your DJ into a human iPod.  Allow them to do what they do, which is reading the crowd so they know exactly what to play next.


https://www.djstlouis.com/wp-content/uploads/2020/07/Party-Pros-Logo-2020-300x121.png
0
0
admin
https://www.djstlouis.com/wp-content/uploads/2020/07/Party-Pros-Logo-2020-300x121.png
admin
2016-03-15 12:48:30
2020-08-03 22:20:20
9 Things To Avoid Major Buzzkill at Your Wedding Reception