Up Lights Elevates The Mood
Up Lights are a great way to elevate the mood for your event.   First of all, when you are thinking about the decor for your venue, you want something your guests will remember.  In addition, it is important to set your event out from other events that your guests have attended.
Due to most people having not so good a memory, they will remember three things about your event.  Most of all, the food, the venue, and the entertainment.  And if you are having a wedding, you can use the previous three and add on wedding dress.
The venue may or may not come with up lighting.  Most venues do not.  Because up lighting is intricate you would want to ensure that your up lighting has a controller.  Another way to create a memorable venue is if you add a monogram.
Almost always you can find a company that offers up lights, but they typically don't have a controller.  The controller allows the DJ or light attendant can control the color of the lights.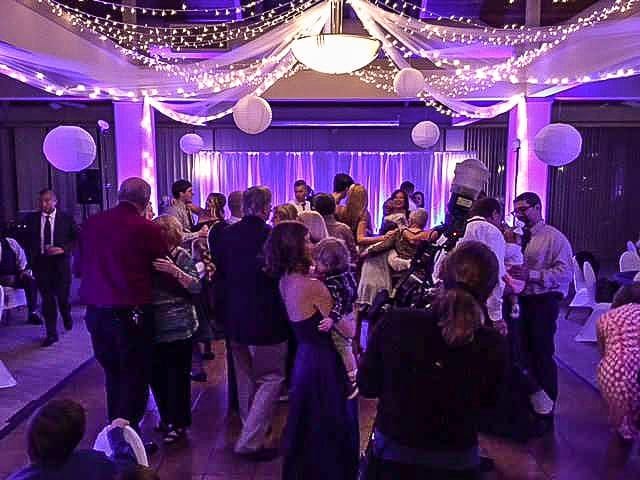 Have your Up Lights Reflect Your Colors
Most noteworthy is if your event has specific colors, the up lights can correspond to reflect whatever those colors are.  For example, your wedding colors may be blue, white and yellow.  Because you hired an entertainment company that offers the controller, you can have those colors alternating with your up lights.  The entire room will be warmed up with the colors you chose for your wedding.  How awesome is that?

Up Lighting has a tremendous effect on the mood of you and your guests.  This effect is something that people will not ever forget.  They will always remember how they felt that night at your birthday party, school dance, wedding, or corporate event.
Your Guests Will Always Remember Your Up Lights
Especially relevant is the amount of up lighting you decide to choose.  Anytime you are looking to add up lighting, you want to have them in even numbers.  The light controller works best when the up lighting are pairs.  It is not a good idea to do an uneven number of up lighting for that reason.
In conclusion, up lighting can transform the venue to leave your guests in awe.  That feeling they have they will never forget.  That is the type of feeling you want them to have when they leave your event.
https://www.djstlouis.com/wp-content/uploads/2020/07/Party-Pros-Logo-2020-300x121.png
0
0
admin
https://www.djstlouis.com/wp-content/uploads/2020/07/Party-Pros-Logo-2020-300x121.png
admin
2018-07-27 12:30:44
2020-07-21 20:32:40
Up Lights are Decorative Lighting