The Music is the Magic!
Music creates magic at wedding receptions!  It sets the tempo from the grand entrance to the first dance. Our professional DJ's will make sure your event is flawless with the perfect atmosphere of music and a packed dance floor.
Party Pros DJ's create the mood that will ensure your guests are having the time of their lives.  Our DJ's will keep you and your guests entertained while dancing the night away.  From mixing a beat to playing the music to keep the crowd moving, Party Pros DJ's are the professionals in creating fun!
You can't help but Love our DJ'S!
Our DJ's are the cream of the crop because of our experience, microphone skills, personality, professionalism and customer service that has yet to be matched in this industry.  We will customize your music preferences to your personal style and musical taste.
St. Louis Wedding DJ
We are completely dedicated to making your wedding reception unique and extraordinary because it is our passion. Our Party Pros DJ's understand how important flow is with the music.  The essential parts of the wedding are the formalities and announcements which our DJ's inject their personalities into.  This separates our company from the other DJ companies.
A wedding DJ that is truly talented should be able to do more than simply play good music.  The music is a critical part but the timing and flow with the announcements is super important to make the most important day of your life also the most memorable one for you and your guests.  Party Pros specialty is making your wedding reception the one you have always dreamed of.
St. Louis Best Wedding DJ
Your wedding is a reflection of your love story in being a couple.  We can help highlight the outstanding qualities and the absolute memorable times that distinguishes your story from anyone else's.  As a team, we can create blissful moments by injecting your personal signature to the wedding traditions, while making it exclusive and fresh!
Our attention is squarely focused on celebrating the official beginning of your lives with one another, through the soundtrack of your fairytale wedding.
Party Pros goal is to create the wedding that is truly memorable with the Party Pro style that encompasses your overall vision of your unforgettable wedding day.
Enjoy your own Reception
Our DJ's will make certain that you are in the right place at the right time while looking your absolute best.  We assure you that you will enjoy your reception with all of your family and friends.
Leave all the details and coordination with the other wedding professionals to us.  We strive to help you enjoy every millisecond of your celebration without the worries of last minute particulars.
Our professionals are there to keep the celebration of your lives together running almost effortlessly. You are there to party on the most important and unforgettable night of your lives!
Enjoy your own Personal Wedding Soundtrack:
Couples get to choose the level of their involvement when planning the music and entertainment as they wish.
It is our choice to have your wedding reflect your tastes as a couple and as individuals.
Free Wedding Planning Worksheet
We offer a free wedding planning worksheet that will cover all of your music selections, sound and lighting preferences, announcements, and the order of events.  We will take the information that we gather from the two of you during our consulation to help plan and document every detail.
This will make your wedding ceremony and wedding reception run smooth and worry-free.  We understand that every wedding is unique and different.  Our wedding planning worksheet gives YOU the ability to customize your wedding the way you want it.
Note:The link above is a downloadable wedding planner made in Microsoft Word.  Please download the file. Type in your information and email it to partyprostogo@gmail.com
Wedding Planner (For Mobile Phones)
Note: This is a PDF file for your phone. The link above is a downloadable wedding planner. Please note you can't not edit this file.We offer the top 200 most requested songs which help you create the music playlist of must plays, play if possible, and do-not-play list.

Weddings are Our Passion
We are honored each and every time we are invited to perform at a wedding reception.
We will team up to create memories that will last a lifetime with the celebration of your wedding reception.
Choosing A Disc Jockey Service
Thank you for considering Party Pros for your wedding ceremony and wedding reception.  We have over 20 years of experience in the entertainment industry, and have performed at over 600 wedding receptions.  Our DJ's are the most experienced in the area and they are ready to work for you and your guests to make your event one that people will be talking about for years to come.
Free Wedding Consultation
After you book us, we will be happy to meet with you in person or over the phone. For your convenience we can set up a consultation appointment about two months before the big day.  During our meeting, we will discuss all of the formalities of your event: what you visualize for your wedding ceremony and reception and how Party Pros can make sure everything is exactly the way you want it, step by step.  Please call us at (314) 303-9635 to schedule your free appointment.
Super Experienced which means Worry Free for You
We are the Party Pros so that means you won't have to worry about anything because we take care of it all.  At our free wedding consultation 2-3 months before your wedding we will sit down with you to hammer out all the details you want to infuse into your special day.  We assure you that your DJ will have the knowledge and experience to produce the wedding that will be exactly what you imagined.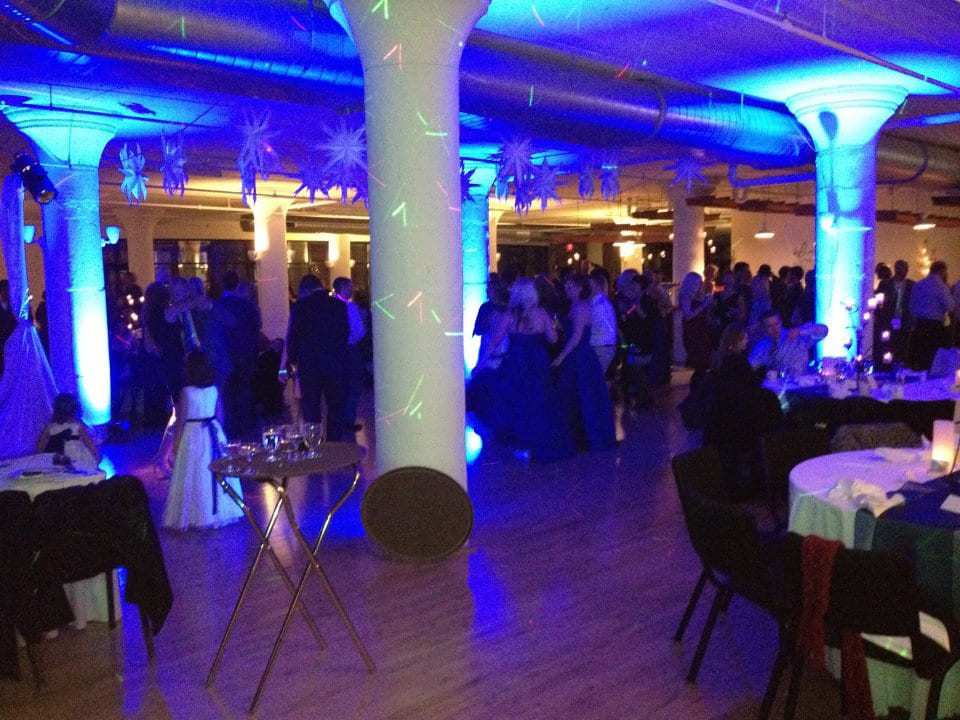 All of our Wedding Packages Include:
2 – Professional Surround Sound Dance Floor DJ Speakers.
1 – Wireless Microphone (microphone stand available upon request)
1 – Wired Microphone (microphone stand available upon request)
1 – Dance Floor Sound Syncing MultiColor LED DJ Light Bar
1 – Dance Floor Sound Syncing Laser
1 – T Bar with 4 Multi-Color LED par cams with Controller
1 – Professional Disc Jockey / Emcee (includes 4 hours Entertainment)
1 – Digital Music Library
1 – Access To Over 25 Million Songs (must have access to Wi-Fi)Special Enhancements for Your Wedding Customize your wedding to reflect the uniqueness that reflects you and your spouse.
Our packages provide top notch services at affordable prices.
These options are included in some of our different packages that will take your wedding reception to the next level!
  Photographer
  Ceremony Sound System
  Additional Speakers for Big Room Sound
  Additional LED Dance Floor Lighting
  Pipe and Drape
  Video Projector and Laptop Rental
  And More…
We Would Love to Hear Your Ideas About Your Wedding!  Call us at 314-303-9635 or Email Us @ partyprostogo@gmail.com and let's find out how we can help make your fairy tale vision of that perfect wedding day become your reality!
[wufoo username="partypros" formhash="z1pd7gjm0wnwndy" autoresize="true" height="1251″ header="show" ssl="true"]
Top Dance & Most Request Songs
DJ Intelligence Most Requested All 2015

How To Book A Mobile DJ Company
This is a free audio podcast that will take you through the step-by-step process on how to book a professional DJ company:
Episode Number #1 – How To Book A Mobile DJ Company (click here to listen to it on your computer)
Episode Number #1 – How To Book A Mobile DJ Company (download for free in I-Tunes)